Join Yeowchuan Hardware and enjoy the opportunity for fast career growth in a progressive and upbeat work environment dedicated to helping all our customers with quality products and exceptional service.
Yeowchuan Hardware is devoted in supporting our staff to enable them to accomplish their potential. From instructional classes to instructive projects, each Yeowchuan Hardware Staff has the support they need to give clients the excellent assistance and advice we are known for.
We support ownership, creativity, invention, innovation and leadership. What's more, anyone working here will have equivalent chance to learn and develop with us !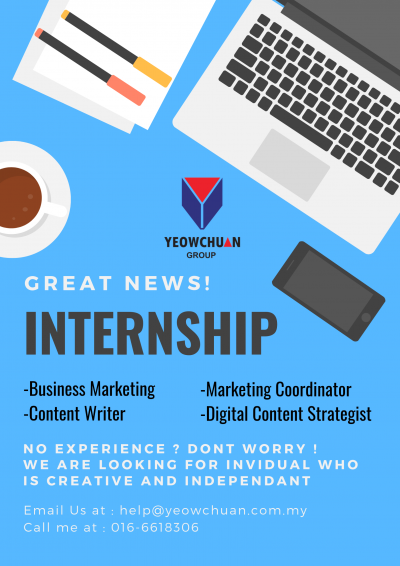 Position Available
E-COMMERCE CONTENT CREATING & MARKETING INTERN
We are looking for individuals that are young, vibrant and hardworking who are eager to learn and get exposure in the e-commerce industry. No working experience necessary as training will be provided.
Salary: RM800 per Month
Minimum working availability: 3 Months
Employment type: Full-time
REQUIREMENTS:
Must have a good command of Chinese/English/Bahasa Malaysia
Capable of learning new web interfaces quickly
Applicant must currently be enrolled in a college or university.
Excellent communication skills
High level of attention to detail
Versatile and capable in adapting to different tasks that may be out of the usual routine
No work experience required
RESPONSIBILITIES:
Assist in managing product and marketing content on website
Monitor social media marketing content
Learn the processes involved in e-commerce retail
Training will be provided
Please send your Resume & CV to logan.xiang@yeowchuan.com or Whatsapp 016-6618306